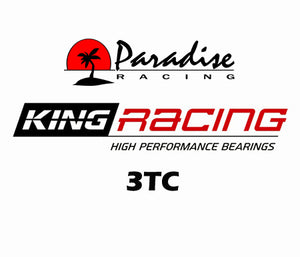 3TC Toyota Corolla King Bearing Kit

Kit includes, Rods, Mains & Thrust!!!
Technologically Advanced OE Replacement Parts
As demonstrated by the list below, it's pretty hard to find a vehicle that King doesn't make a replacement bearing for. And when we say OE quality, we mean it. Our materials and technology assure that your replacement bearing will perform as well or even better than the original.
Bull's Eye Tolerance
"
Bull's Eye
" is how we describe our ultra-tight tolerance. Utilizing statistical control methods, we are able to maintain amazingly tight rod and main bearing wall thickness tolerances.
Click here to read more about this technology >>
MaxFlange® and ProFlange®
MaxFlange is a process used on all our bearings to reduce endplay. ProFlange is a line of bearing sets supplied with oversized flanges. Together, they work to solve crankshaft endplay problems.
Click here to read more about this technology >>
A Choice of Materials
King uses superior materials to provide superior performance:


Alecular Alloy (AM), an alloy of aluminum, tin and copper-Plus Alloy on high-strength steel. (Bi-metal bearing)


Babbitt on Steel (BB) in precision, micro or conventional thickness. (For Cam Bearings)


Copper-Lead on Steel (CP) with .001″ Copper-Lead-Tin Overplate. (Tri-metal bearing)


Alecular Silicon (SI), a highly versatile, wear-resistant and durable material preferred by OE manufacturers. (Bi-metal bearing)