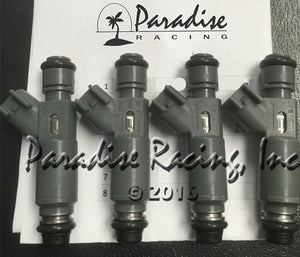 Denso 2000cc Injectors
The Denso 2000cc Injector is a custom made EV6 style injector.

Compatible with all fuels
Excellent Spray Pattern & Atomization
2000cc @ 43psi / 3338cc @ 100psi
The Denso 2000cc has become a popular injector because of its compatibility to all fuels. Its stainless steel internals allow it to be used with MTBE Fuels like VP C85, VP M5 and VP Q16. 
Standard config is with a 14mm oring but we can also make them with an 11mm oring. Please select the size oring from the drop down menu.
We can set these injectors to fit almost any application. Please let us know in the notes section what application you need them for. 

The injectors are sold individually. Please add the quantity you need in the check out.