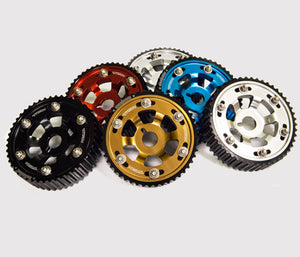 2JZ Adjustable Cam Gears
Fully Adjustable Cam Gears for the Toyota 2JZ-GE & 2JZ-GTE Engines!!!
A gain of up to 18HP is achievable when purchasing two cam gears. The majority of the gain is achieved from the exhaust cam gear and the remaining comes from the intake cam side. Cam gears for the 2JZGTE Supra are universal, so there is not a specific gear for the intake or the exhaust cam side.
Price is for one (1) cam gear. On a Supra you will need 2, while on a IS300 only 1 Cam gear (exhaust side) is needed. These cam gears fit both the Turbo and Non-Turbo 2JZ Supra, as well as many Lexus applications.
We offer a wide selection of anodized colors to complement your engine bay color design!!! Silver and Red. Please select your color before checking out.