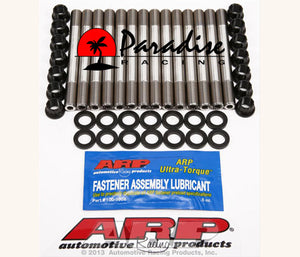 2JZ ARP Custom Age 625 Head Stud Kit for 2JZ-GE & 2JZ-GTE 203-4301
ARP Custom Age 625+ studs are centerless ground, heat treated prior to thread rolling and machining. Rated at 270,000 psi these fasteners deliver a 50% increase in tensile strength over the OEM Torque to Yeild(TTY) head bolts.
The cool thing with these studs is that unlike the 1/2" L-19 head stud kit, they do not require your block to be drilled and tapped!!! Install, torque and run!!!
Your purchase Includes a set of 14 Custom Aged 625+ head studs, 14 parallel ground washers, 14 8740 chromoly steel 12 pt nuts and 1/2 oz pack of ARP Ultra-Toirque fastener assembly lubricant.