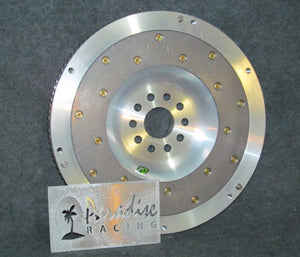 2RZ 3RZ Aluminum Light Weight Flywheel
Our aluminum flywheels are made from the highest quality 6061 T6 aluminum. The material is fantastic for strength, heat dissipation and of course reduction in weight.
BODY - 6061 T6 ALUMINUM Tolerances machined to +/- .001 6061 T6 has an ultimate tensile strength of at least 42,000 psi and a yield strength of at least 35,000 psi.
RING GEAR - 1050 STEEL / HEAT TREATED Heat treated for durability. The gears are heated then pressed on and secured with grade 8 button screws.
REPLACEABLE FRICTION PLATE - 1045 STEEL The friction surface we use is an incredibly strong 1045 steel. The plates are milled to meet our high specifications. With these replaceable plates there is no need to replace the entire flywheel when the clutch or flywheel is at the end of it's life, saving time and money.
BUTTON SCREWS - GRADE 8 Increased security helping fasten the ring gear to the flywheel.
FASTENERS - MILITARY SPEC Military grade aerospace fasteners aid in pulling heat away from the clutch face. Properly spaced for form and function.
STEPPED DOWELS - STEEL Once pressure plate is installed they become locked in place. First in the industry to implement the use of stepped dowels.
Light Weight at only 12lbs, our flywheel will work with both Toyota 2RZ-FE and 3RZ-FE engines!!!
An excellent modification for NA, Super Charged or Turbocharged Engines!!!
We strongly recommend that you replace your flywheel bolts Each & Everytime you remove your flywheel off!!!
We offer our Paradise Racing ARP Flywheel Bolts at a discounted price when you purchase them with our flywheel!!!