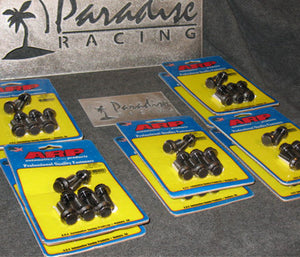 2RZ 3RZ ARP Flywheel Bolt Kit
Paradise Racing Exclusive!!!
ARP Fly Wheel Bolt Kit for Toyota Tacoma 2RZ & 3RZ engines.
These are custom made for Paradise Racing.
Made of 8740 Air Craft Strength Alloy, these ARP flywheel bolts are rated to 200,000 psi!!!
Do not risk your legs!!! Flywheel bolts should be changed each and every time that you remove them. So everytime you change your clutch, you should swap your flywheel and pressure plate bolts!!! Why not replace them with a set of ARP units that are stronger than factory???