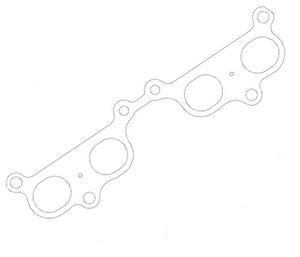 2RZ 3RZ Tacoma & Hilux Exhaust Gasket by Cometic
Cometic Gasket's commitment to cutting-edge technology has produced superior-quality gaskets like these Cometic MLS exhaust gaskets. These exhaust gaskets are constructed from multiple layers of strong stainless steel that has excellent rebound ability and corrosion-resistant characteristics. The outer layers are coated with a heat-resistant, rubber-based material to create a seal that can withstand a variety of sealing and load conditions and surfaces. Cometic MLS exhaust gaskets are ideal for all types of head and block material and their design promotes an even torque load across the sealing surface, allowing for measurably reduced bore distortion.
These gaskets will work with all 2RZ-FE & 3RZ-FE engines out of the Tacoma, Hilux, T-100 & 4 Runners.
We always recommend you to resurface the manifold flange before installing a new exhaust gasket. Failure to do so will cause exhaust leaks and blown gaskets.