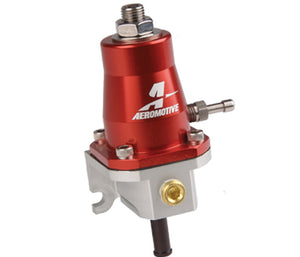 P/N 13116 (92-97 1.6L VTEC)
86 - 89 Accord LXi/SEi
92 - 95 Civic
99 - 00 Civic Si
93 - 95 Del Sol S/Si
94 - 97 Del Sol VTEC
89 - 91 Prelude Si
94 - 01 Integra
--
Aeromotive Honda/Acura Billet Adjustable Fuel Pressure Regulator 13116

Billet adjustable regulators specifically designed for Honda and Acura engines to provide fully adjustable base fuel pressure. These  regulators are direct bolt-on for engines with the factory fuel rail or aftermarket fuel rails designed with mounting provisions for the  stock regulator.
• Adjustable from 30-70 PSI.
• Connects directly to the stock fuel rail and return line.
• Perfect for use with the factory fuel pump, yet flows enough for  larger pumps like the Aeromotive A1000.
• The same unrivaled, Aeromotive fuel pressure control preferred by the top racers and tuners, in a Honda specific, bolt-on package.
• Fuel pressure rises on a 1:1 ratio when referencing boost.
• 1/8' NPT gauge port.

P/N 13116 (92-97 1.6L VTEC)
86 - 89 Accord LXi/SEi
92 - 95 Civic
99 - 00 Civic Si
93 - 95 Del Sol S/Si
94 - 97 Del Sol VTEC
89 - 91 Prelude Si
94 - 01 Integra