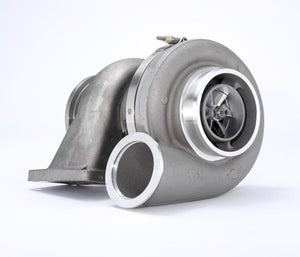 Borgwarner S400SX4 S471 171701
--
Borgwarner S400SX4 S471 171702



71mm Extended Tip Compressor Wheel


Borgwarner 88/96 Turbine Wheel


T6 1.32 Turbine Housing!!!


The Borgwarner S471 Turbo as it is known in the performance industry will go down in history as the most used and the one with the most records for 12A & 13B Rotary Engines as well as 4 Cylinder and 6 Cylinder Engines World Wide!!!
• Twin hydrodynamic journal bearings
• Extended tip technology compressor wheel
• Twin scroll turbine housing
• Adjustable compressor and turbine housing orientation
• Compressor cover recirculation grooves

By extending the ends of the compressor wheel, BorgWarner has effectively increased the pressure ratio, efficiency and flow of the entire compressor.
This gives the S200, S300 & S400 pressure ratios and efficiencies that can normally only be had with larger, slower spooling turbos.
The extended fins do not hamper spool-up. The compressor wheel is designed to remove excess weight, reducing overall rotating mass. Of particular importance is the reduction of weight at the outer edges which is a major factor for reducing inertia. The weight reduction and where it is reduced allows these compressor wheels to spool FAST.
Another factor that increases the efficiency of the turbo as well as overall flow is the height of the compressor wheel blades. The BorgWarner extended tip version is over 20% taller than the standard 50 trim. The theory that the longer the air stays on the blades the more boost you can run and the more air it will flow thus improving the aerodynamics of the turbo. This extended tip compressor wheel is rated at more than 55 lbs/min vs. the standard 50 trim at only 49 lbs/min.