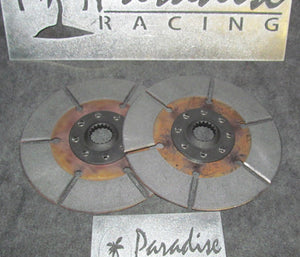 McLeod Replacement Clutch Disc for Drag Mag
Have you worn down your clutch disc on your Drag Mag kit????
Paradise Racing to the rescue!!!
McLeod Cintered Iron Clutch Disc for Drag Mag Twin Disc Kit.
Disc are sold individually so if you need 2, please add them in your cart!!!
This Cintered Iron Clutch Disc will fit "ALL" McLeod Drag Mag Kits!!!
We have them available in 10 spline, 18 spline and 26 spline hubs.
Mazda, Mitsubishi, Nissan & Toyota!!!
We also carry replacement, flywheels, pressure plates, pressure rings, floaters, stand kits and much more!!!