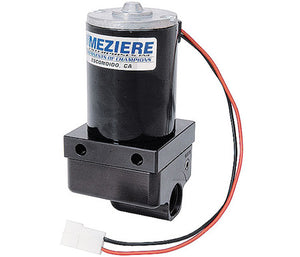 Meziere WP136S - Meziere Mini Inline Electric Water Pump
These water pumps use Meziere's special winding motor that delivers more than 3,000 hours of reliable service. The pump housing and impeller are CNC-machined 6061-T6 billet aluminum, and the large main shaft is stainless steel with a ceramic seal. Single outlet pump weighs only 6.3 pounds; dual outlet pump weighs 6.4 pounds. Designed for small engine applications, sport compacts, and water-to-air intercoolers, this water pump installs where you need it.
Features



Height: 7.25''


Stainless steel hardware


3,000+ hours service life


Suitable for street or strip


Draws 6-7 amps under normal use


Free-Flow Rate: 20 gallons per minute


Remote mount inline design for universal fit


Stainless steel main shaft with premium ceramic seal


Requires O-ring AN fittings (common on many pumps)


Single inlet port threaded -12AN to accept a variety of fittings


Single/dual outlet port threaded -12AN to accept various line connections


Lightweight (single outlet unit is 6.3 pounds; dual outlet unit is 6.4 pounds)


2-Year Unlimited Mileage Guarantee


Made in the USATechnical Notes


To finish the system, hardware is included but inlet and outlet fittings are not. Choose fittings based on the size and type of hose connection.


Meziere -12AN O-Ring Fittings are available for -8AN, -10AN, -12AN, -16AN, 5/8'', 3/4'', 1'', or 1-1/4'' slip hose.


The 12-volt pump will work with 16-volt systems. Care should be taken that the pump is not running while charging.