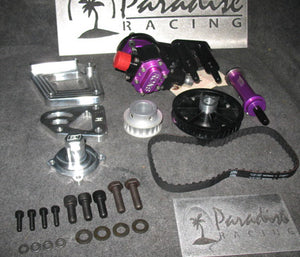 Paradise Racing Rons 2.0 Mechanical Fuel Pump Kit 20B
Another Paradise Racing First!!!
Paradise Racing has assembled a mechanical fuel pump kit for the Mazda 20B engine that takes ALL of the guessing games out of the equation for you.
Buy it, bolt it up and hit the track!!! That simple!!!
We used the most acclaimed products on the market to bring this kit together for you.
Kit inlcuded;
Ron's 2.0 Fuel Pump = 12.9gpm 
E&J Bracket Kit with hardware, Mandrel, Pully for pump and mandrel and belt.
We don't have a doubt or a problem with saying that this is the most complete kit on the market and neither will you.