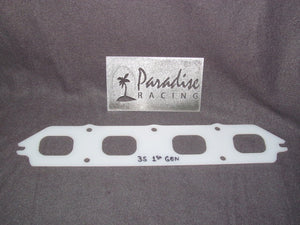 Toyota 3SGE 3SGTE 1st Gen Paradise Racing CNC Machined PTFE Teflon Thermal Intake Gasket
Paradise Racing has done it once again and we have developed a special high temperature thermal insulating gasket which replaces the stock intake gasket on all Toyota 3SGE 3SGTE First Generation Engines.
Made of a proprietary PTFE Virgin Teflon Blend and CNC Machined for exact dimensions and fit, our PRTIG forms a thermal barrier and keeps the power-robbing heat away from the intake manifold. By preventing the heat transfer from the HEAD to the INTAKE MANIFOLD you create a COOLER intake manifold. A cooler intake means denser, more oxygen rich air, and a much better fuel burn resulting in more power!!!
This is not only a power mod but it is an amazing mod for improving gas mileage!!!
The icing on the cake??? Our PRTIG is reusable and won't tear like the factory paper gaskets do. Lifetime Gasket!!!