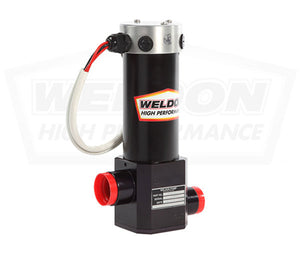 Weldon A16000-A Fuel Pump is Ideal for EFI applications up to 4000 HP on gas and 2000+ HP on Methanol where an approximate 7 GPM fuel pump is required. Ideal for use in Import Drag Racing, "Drag Week," or True Street type race cars.
--
Weldon's redesigned A16000-A fuel pump made its debut at PRI 2018 to intense interest from attendees. "The response to the A16000-A launch from both racers and builders was off the charts," commented Jim Craig, Racing Products Manager.
Racers know that Weldon is committed to the design and manufacturer of the finest fuel pumps for EFI applications. The list is long of championship winning racers who trust Weldon pumps to be there round after round, and to deliver when an entire season is on the line.
​
"The new, redesigned A16000-A is ideal for EFI applications be it Import Drag Racing, "Drag Week," or True Street racers in NMCA / NMRA. For guys looking for a pump that delivers up to 4000 HP on gas and over 2000 HP on methanol at 7 GPM than the A16000-A is the perfect choice," continued Craig. And all Weldon pumps, regulators, and filters are proudly made in the USA under the most exacting Aviation Quality standards.


Ideal for EFI applications up to 4000 HP on gas and 2000+ HP on Methanol where an approximate 7 GPM fuel pump is required. Ideal for use in Import Drag Racing, "Drag Week," or True Street type race cars.


Ultra high efficient electric motor assembly compatible with 12 volt to 24 volt supply


Self priming


-16 o-ring port inlet and -12 o-ring port outlet


Billet aluminum, MIL-SPEC anodized housing


10 vane steel pump element provides consistent flows throughout the pressure range up to 100 PSI


Uses the same proven Teflon lip seal as all other Weldon pumps which eliminates any possibility of leaking or failure


Compatible with all race fuels


10.5 lbs




Gasoline


Methanol


Diesel


Ethanol


All race fuels