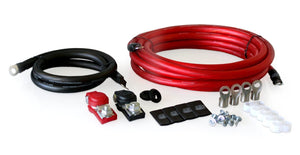 XS Power RK2GA-1 Battery Cable Kit 
Trunk Mounting your battery? 
Re-Wiring your engine bay? 
Need new battery wires that can handle the load???
XS Power RK series battery cable kits are high-quality, lightweight racing cable kits that include everything you need to help relocate your battery. They feature high-quality, 2-gauge positive and negative cables that are covered in a durable silicone sleeve. They are designed to provide superior performance for your ride, as well as everything you'll need for a complete installation. 
Kit Includes:
1qty - 16ft 2AWG XP FLEX RD Power Cable
1qty - 3ft 2AWG XP FLEX BK Ground Cable
8qty - XS Power Brand Heat Shrink
8qty - 2AWG Crimp Terminals
2qty - Battery Clamps
2qty - Grommets
10qty - Wire Clamps
10qty - Self Tapping Screws